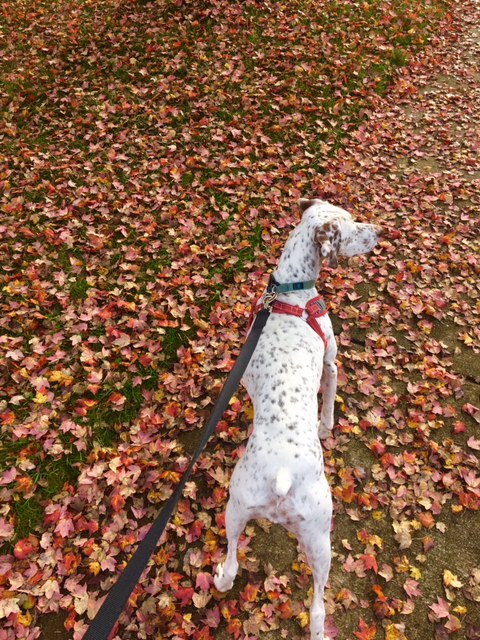 Glory be to God for dappled things—
  For skies of couple-colour as a brinded cow;
      For rose-moles all in stipple upon trout that swim;
Fresh-firecoal chestnut-falls; finches' wings;
  Landscape plotted and pieced—fold, fallow, and plough;
      And all trades, their gear and tackle and trim.

All things counter, original, spare, strange;
  Whatever is fickle, freckled (who knows how?)
     With swift, slow; sweet, sour; adazzle, dim;
He fathers-forth whose beauty is past change:
                                    Praise Him.
— "Pied Beauty" by Gerard Manley Hopkins
I love these autumn walks with Remi. Seeing her in her spotted glory against the blanket of peach and yellow leaves reminds me of this poem. I love it for the word-play, for the gratitude it so lovingly paints, and because I am also a lover of the contrasting beauty of "dappled things."
Happy Thanksgiving to you and your family. Enjoy the dappled things, the things strange, fickle, sour and sweet that tend to come along with holiday gatherings. Extra love to all of us whose table will be missing a loved one this year.
Easy to be grateful for things adazzle. Harder for things dim. May we find the past-change beauty in it all.
Love,
Shannon